First time I read about
AFAM
, I was blog-hopping as usual. It was last month and AFAM was about grapes. I wanted immediately to participate but then, it was two days before the deadline. In this case, it was hard for me to choose a recipe, prepare it, take a picture, post the recipe and send it. Finally I promised myself to participate to next
AFAM
. So here I am....
AFAM
or a Fruit a month was pioneered by Maheswari from
Beyond the usual
. It aims at introducing some dishes using the fruit of the month. AFAM, this month is hosted by Mansi Desai from
Fun and Food
and the fruit she has chosen is Peach/nectarines.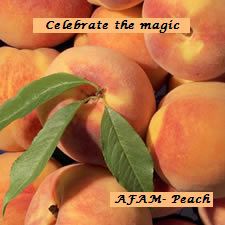 Well, peaches is out of season now in France. Anyway I did my best. I looked everywhere and the only peaches I found were wrinkly and unflavoured ones but ridiculously expensive. In addition, for the dishes I had in mind canned peaches would be great!
The dish is a rice pudding made with coconut milk and served with peach compote. For the recipe, there are some steps to follow.

First step, you have to prepare the peach compote. I used a half pound canned halved peaches, but there were too many. I think that you can use only one peach ( or two halves) per person. Consequently for 3 persons, you'll need:
1 canned peaches draines ( keep the syrup, you'll need it later)
1 anise
Put the syrup and the anise in a saucepan and bring to a boil on medium heat. Let simmer for 10 minutes or until it reduces by half. Remove the anise from the syrup.
Put the peaches in a blender and pour the syrup over them and blend until you get a smooth paste.
The peach compote is ready.
Secondly, you have to prepare the
coconut-flavoured rice pudding
. In order to do that, you'll need:
1 cup of whole milk
1/2 cup of unsweetened coconut milk
4 tbsp of rice
2 tbsp of caster sugar
Put the milks in a saucepan and bring to a boil. Rince the rice and add it to the milk. Let simmer for 20 minutes, stirring occasionally. When the rice is cooked, add the sugar. Stir and set aside.
Third step, you have to serve your dish. In a glass, spoon two tablespoons of peach compote. Put half an hour in the fridge to cool. After 30 minutes, spoon in the rice. Decorate with cardamome seeds.
The dish is ready to be eaten!